Join us for a lunchtime lecture series on select Tuesdays throughout the year, as the DHS explores a variety of different topics about local and state history. CLICK HERE to join our newsletter and be notified about upcoming lectures and programming.

All lectures are FREE and open to the public.
Reservations are required and capacity is currently limited to 150 attendees.
Tables will be available on a first come, first serve basis.
Attendees are welcome to bring their own "brown bag" lunch to enjoy during the presentation.
Each lecture will last approximately one hour.
2019 SCHEDULE
Mar. 5
Secret Dallas: A Guide to the Weird, Wonderful & Obscure
With Mark Stuertz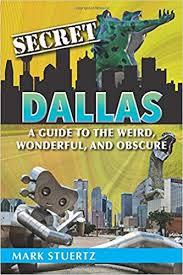 During this Brown Bag Lecture Stuertz will take you on an excursion through the weird, the wry, and the wonderful idiosyncrasies that comprise Big D. From the Playboy Marfa bunny-with-a-muscle-car sculpture, to the ceaseless failed attempts to navigate the Trinity River, to the invention of the computer chip and German chocolate cake, Dallas is the birthplace of the whimsical, the wistful, and the profound. Secret Dallas answers questions about Big D you never knew you had, catapulting you through a portfolio of little-known but fascinating people, places, episodes, and artifacts. Think of it as a scavenger hunt travelogue, providing insights into hidden rhinestones and diamonds in the caliche. Secret Dallas is a riveting excursion into the city's odds and ends, where the rare and the phenomenal express the big, the bold, and the brash in everyone.
A nationally award-winning journalist and author, Mark Stuertz has been a Dallas-based writer for more than two decades. His investigative reporting, features, criticism, and business process articles have appeared in a variety of publications including the Dallas Observer, Modern Luxury Dallas, the Dallas Business Journal, Dapper, and Texas Monthly. He has also contributed to national publications including American Way, Spirit, Food & Wine, Wine Enthusiast, Wine Business Monthly, Private Air, and American Driver.
---
April 9
Blue Texas: The Making of a Multiracial Democratic Coalition in the Civil Rights Era
With Max Krochmal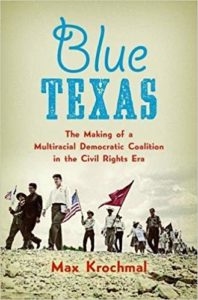 Dr. Krochmal discusses his book about the other Texas, not the state known for its cowboy conservatism, but a mid-twentieth-century hotbed of community organizing, liberal politics, and civil rights activism. Beginning in the 1930s, Max Krochmal tells the story of the decades-long struggle for democracy in Texas, when African American, Mexican American, and white labor and community activists gradually came together to empower the state's marginalized minorities. At the ballot box and in the streets, these diverse activists demanded not only integration but economic justice, labor rights, and real political power for all. Their efforts gave rise to the Democratic Coalition of the 1960s, a militant, multiracial alliance that would take on and eventually overthrow both Jim Crow and Juan Crow.
Using rare archival sources and original oral history interviews, Krochmal reveals the often-overlooked democratic foundations and liberal tradition of one of our nation's most conservative states. Blue Texas remembers the many forgotten activists who, by crossing racial lines and building coalitions, democratized their cities and state to a degree that would have been unimaginable just a decade earlier–and it shows why their story still matters today.
---
May 14
Art: Transformation of a Thought
With Viola Delgado

Viola Delgado is an imaginative artist, painter, and sculptor who is driven by an incredible passion for self-expression through art. Her works are often noted for their unique simplicity, vivid color, and elegant geometrics. Delgado has developed an innovative style that blends precise realism with abstract expressionism. Her use of vibrant colors and strong lines makes her work an excellent choice for a wide range of projects and purposes.
Her research into the culture and history of a project have made her a sought after artist for a number of public and commercial projects in the Dallas/Fort Worth area. Delgado's murals can be found at the Latino Cultural Center, Dallas; Stevens Park and Tolbert Elementary Schools, Dallas; the Dallas West Library Courtyard; the Dallas Area Rapid Transit Station; and Vickery Village/Buckner Baptist Children's Home, Dallas. One of her extraordinary medallions is located on the Departure Concourse of the Dallas/Fort Worth International Airport.
---
June 11
Texas Landmark Cafes
With June Naylor
Written by award-winning travel writer and native Texan June Naylor, Texas Landmark Cafes describes what knowledgeable locals have long known about their best diners, steak houses, barbecues and seafood joints, from El Paso to Longview, and what to order when you get there. What the critics say: "You'll never go hungry if you pack this book, which covers the state's four major good groups: barbecue, steaks, Tex-Mex and pie." – Dallas Morning News "No matter what part of the state you're headed for, this cute and handy new guide has you covered with capsule descriptions and ordering suggestions." – Fort Worth Star-Telegram.
---
July 9
Gangster Tour of Texas
With Dr. Lindsay Baker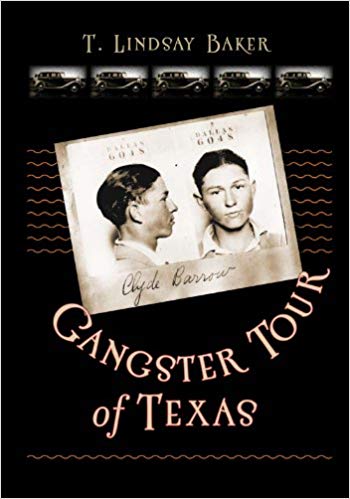 Veteran historian T. Lindsay Baker brings his considerable sleuthing skills to the dark side, leading readers on a fascinating tour of the most interesting and best preserved crime scenes in the Lone Star State. Gangster Tour of Texas traces a trail of crime that had its beginnings in 1918, when the Texas legislature outlawed alcohol, and persisted until 1957, when Texas Rangers closed down the infamous casinos of Galveston.
---
August 13
The Influence of African Americans in Jazz, Blues, Rock, Tejano and Country Music
With Janice Franklin

Dr. Franklin has extensive professional experience in musical theatre as a music director and producer in Dallas and New York, and in jazz performance through ensemble and recording studios. She was twice nominated for the Leon Rabin Outstanding Music Director award. As a composer, she has created and produced two original musical theatre works. Dr. Franklin has served as President of the Board of Directors for S.T.A.G.E., and as a Board member for several arts organizations.
---
September 10
Lone Star Cinema
With John Slate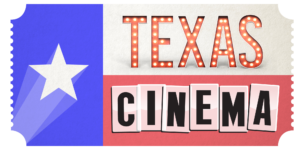 Grab your popcorn and join John Slate, Dallas city archivist and published scholar of Texas film history, as he takes you on a trip around the state and its many connections to Hollywood. Slate's illustrated talk will include stories of both well-known and forgotten actors from Texas, the history and development of the Texas film industry, and fascinating episodes from Texas film folklore.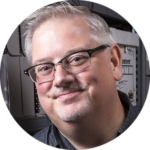 John Slate has made the preservation and availability of history a significant part of his life both on and off the job. When he's not chasing his two-year-old twins around the house, Slate is an active member of the Society of American Archivists, Metroplex Archivists and the Society of Southwest Archivists. He's also a member of the Texas State Library and Archives Commission's Historical Records Advisory Board and the author of several published books and articles.
---
November 12
Texas Dames
with Carmen Goldthwaite
Texas Dames: Sassy and Savvy Women Throughout Lone Star History recounts how these "Dames" broke gender and racial barriers in every facet of life. Some led the way as heroines while others slid headlong into notoriety, but nearly all exhibited similar strands of courage and determination to wrest a country, a state and a region from the wilds
---
This lecture series supported by:
Belmont Village Senior Living is designed for seniors who need some assistance with daily activities. Residents enjoy chef-prepared meals, housekeeping, transportation, and social activities.
CLICK HERE for more information
To become a DHS member, CLICK HERE