Join us for a lunchtime lecture series on select Tuesdays throughout the year, as the DHS explores a variety of different topics about local and state history. CLICK HERE to join our newsletter and be notified about upcoming lectures and programming.

All lectures are FREE and open to the public.
Reservations are required and capacity is currently limited to 150 attendees.
Tables will be available on a first come, first serve basis.
Attendees are welcome to bring their own "brown bag" lunch to enjoy during the presentation.
Each lecture will last approximately one hour.
Join us for a lunchtime lecture series on select Tuesdays throughout the year, as the DHS explores a variety of different topics about local and state history. CLICK HERE to join our newsletter and be notified about upcoming lectures and programming.
Mar. 21
Texas Liberty Forever: Building the Exhibit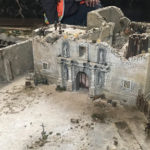 Join the Dallas Historical Society Director of Exhibits Toby Hazelip and Director of Education David Lee for a guided tour of the Texas Liberty Forever! exhibit. Learn how Thomas Feely, Jr. created the massive diorama of the assault on the Alamo, how DHS staff installed the immersive exhibit, and an overview of the siege and battle that has inspired generations of Texans.
Toby Hazelip is the Director of Facilities and Director of Exhibits for the Dallas Historical Society. Toby was instrumental in helping create some of the Historical Society's most popular exhibits, including Big Texas Music, Texas in the First World War, and Texas Cinema.
David Lee was born in Dallas but grew up in the small town of Scurry, Texas. He has a bachelor's in Historical Studies from the University of Texas at Dallas and a master's in Educational Leadership from the University of North Texas at Dallas. He has served as a teacher, professional development trainer, and social studies assessment coordinator and is committed to providing accurate and engaging educational experiences to Texans of all ages. This event is part of Dallas Historical Society's Texas Independence Day Celebration
---
Apr. 13
Metro Music: Celebrating a Century of the Trinity River Groove
A lecture by Gene Fowler
Author and musician Gene Fowler will discuss the history of music in North Texas from the late 1800s to the 1960s. While often overshadowed by other American cities, Dallas and the surrounding area has a solid musical legacy dating back to the earliest settlers. Fowler will share stories of the artists, venues, and diverse personalities contributing to North Texas musical history.
Gene Fowler is a writer and performer. His work has been published in Oxford American, San Francisco Chronicle, True West, Journal of Texas Music History, and more. In addition to co-authoring Metro Music: Celebrating a Century of the Trinity River Groove with William Williams, Fowler has published Border Radio (with Bill Crawford), Crazy Water: The Story of Mineral Wells and Other Texas Health Resorts, and Mavericks: A Gallery of Texas Characters.
---
May 23
Running With Bonnie & Clyde
A lecture by John Neal Phillips
John Neal Phillips will outline some of the known Dallas County activities of Bonnie and Clyde, including the County Avenue gunfight of January 6, 1933, and the November 22, 1933, attempt to ambush the outlaws. Contemporary photographs will be used to support the talk.
John Neal Phillips was born in 1949 in Houston, Texas.  He was educated in Texas and Italy and holds BA, MA, and MFA degrees. Phillips is a recognized expert on Texas prison history and Depression-era Texas outlaws, particularly Bonnie and Clyde.  His research on these topics, including interviews with more than sixty eyewitnesses on both sides of the law, has resulted in much new information never-before made public.
Phillips is the author of, Running with Bonnie and Clyde, the Ten Fast Years of Ralph Fults (University of Oklahoma Press 1996) and editor and co-author (of contextual notes and other material) of Blanche Barrow's prison memoir, My Life with Bonnie and Clyde (University of Oklahoma Press 2002).  Phillips is a contributing author for publications like Literary Dallas (University of North Texas Press 2008), Encyclopedia of the Great Plains (University of Nebraska Press 2004) and periodicals like American History Magazine.
Phillips has appeared in more than twenty documentaries about Bonnie and Clyde and related topics for networks like PBS, History Channel, Learning Channel, National Geographic Channel, and the BBC.
Phillips is an Associate Professor at Tarrant County College, Southeast Campus, in Arlington, Texas
---
Jun. 13
The Beauty of South Dallas
A lecture by photographer Nitashia Johnson
Photographer Nitashia Johnson will discuss her project, The Beauty of South Dallas. Both the people and the land of South Dallas are beautiful. Many of the older buildings represent the struggles some people have faced growing up here, and, to me, that defines strength. Many areas within South Dallas are being developed, and I fear gentrification. My goal was to capture the current South Dallas before the future arrives because the people and places of today's South Dallas are quite beautiful and unique indeed.
Nitashia Johnson graduated from Booker T. Washington High School for the Performing and Visual Arts in 2008 and became a 2012 alumnus of Texas Woman's University with a BFA in Design Communication. She is a first-round Sony Alpha Female Creator-in-Residence.
She created The Self Publication, a photographic series created to uplift the black community while dismantling harsh stereotypes associated with the culture. I am also the creator of The Smart Project, a creative after-school program for artistic teens.
An independent multimedia artist who loves collaborating with fellow artists, she has an unwavering passion for design and photography. She is an alumnus of the Master of Arts in Teaching (MAT) in Art & Design Education program at the Rhode Island School of Design. She is currently working as a full-time graphic designer and portrait photographer and developing a community-based media arts program for high-creative school teens.
---
This lecture series supported by:
Belmont Village Senior Living is designed for seniors who need some assistance with daily activities. Residents enjoy chef-prepared meals, housekeeping, transportation, and social activities.
CLICK HERE for more information
To become a DHS member, CLICK HERE