---
Hours
Starting Friday, September 29th, the Hall of State and the Dallas Historical Society's exhibits will be open daily from 10:00 AM — 7:00 PM for anyone with a State Fair of Texas admission.
---

The Dallas Historical Society Collections: 100 Years, 100 Stories
When the Dallas Historical Society was organized in 1922, it had no home, no staff, and no money. What it did have was a small but dedicated group of members who believed that to be a great city, Dallas needed to document, collect, and preserve its history. Over the last century the DHS has strived to do just that, building a robust archival and 3D collection of over three million items that tell the unique and diverse stories of Dallas and Texas history.
In celebration of our hundredth anniversary, explore some of our favorite collections. In the East Room you'll see a sample of collections donated throughout the years, including the personal collection of football legend Tom Landry, the papers of the woman who built Dallas into an economic center, Sarah Cockrell, and General Order Number 3, more commonly known as the Juneteenth Document. In the Hall of Heroes learn about the rise and fall of utopian community La Reunion, and the pioneering artists who shaped the Texas art scene.
---
Texas Liberty Forever!
March 2022
Created by Pennsylvania-based artist Thomas Feely, Jr. over 18 years and stretching across 336 square feet, the Texas Liberty Forever! diorama is the largest depiction of its kind and serves as the centerpiece of the Battle of the Alamo Exhibit at the Hall of State. The re-creation of the besieged Alamo compound features over 2,000 hand-painted figures poised in battle, just as combatants were on the morning of March 6, 1836. Painstakingly researched and exquisitely detailed, the diorama showcases every aspect of the legendary battle—from artillery pieces and wagons, to cattle, horses, fortresses, and topography, all represented in 1/32 scale (54 mm). The exhibit offers a bird's eye view of history as it was unfolding—Colonel Romero's charge on the cattle corral, troops spilling over the northeast wall into the courtyard, defenders perched atop the Alamo Chapel, and many more action scenes that bring the battle to life. Feely, who crafted and painted each figure separately, designed the Texas Liberty Forever! diorama in four pieces which were crated and shipped to the Hall of State, through the extensive efforts of the Dallas Historical Society and its many supporters. The Alamo exhibit is free, and open to the public.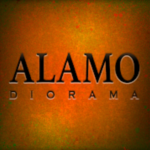 Designed to enhance your experience viewing the diorama, this app is an immersive storytelling tool that provides a comprehensive play-by-play of one of the most revolutionary sieges in American history. It offers 360 panoramas that place you at pivotal battle locations around the Alamo fortress, as well as an augmented reality-enhanced narrative feature that uses target imagery and stunning 3D visualizations to bring these climactic moments to life.
Texas Liberty Forever! is an interactive experience. Click on the links below to download the companion app to your smartphone or tablet
CREATED IN PARTNERSHIP WITH
---
CLICK HERE to see past exhibits