---
2023 SCHEDULE
---
Jan. 19
Dallas Historical Society Centennial Open House
Please join us the afternoon of Thursday, January 19, 2023, for the Dallas Historical Society Centennial Champagne Reception & Open House. This event will be held at the beautifully restored Hall of State in Fair Park, where the Dallas Historical Society's collection has been housed since 1938.
On this special occasion we will be honoring past, present & future Dallas History Makers for their significant contributions to our community.
The reception will feature a champagne toast in the Great Hall surrounded by the beautiful architecture and art created for the Texas Centennial in 1936, as well as a specially curated exhibit from our collection of more than three million rare artifacts, including our new interactive Texas Liberty Forever: The Battle of the Alamo diorama.
---
Feb. 25
Texas History Symposium
By Dr. Stephen L. Hardin & Dr. Loyd Uglow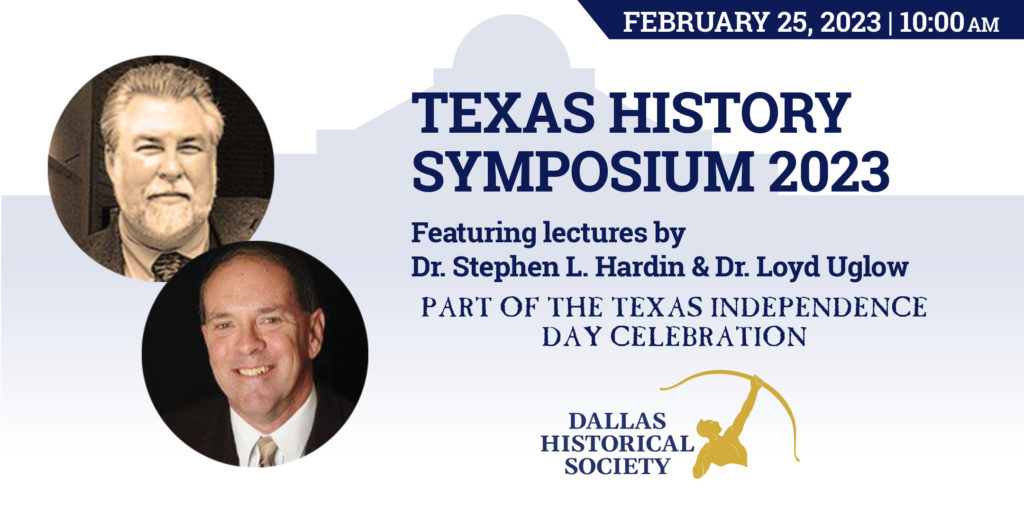 Join the DHS in welcoming Dr. Stephen L. Hardin & Dr. Loyd Uglow as they discuss the Battle of the Alamo and the Runaway Scrape, as part of our Texas Independence Day Celebration.
Dr. Stephen L. Hardin
Stephen L. Hardin is a professor of history at McMurry University in Abilene, Texas.
Author of numerous award-winning books on Texas history and more than a dozen scholarly articles enjoyed by readers on both sides of the Atlantic. Texian Iliad, published in 1994, achieved distinction as a "Basic Texas Book" when bibliophile Mike Cox included it in More Basic Texas Books.
When not engaged in the classroom, he serves as an on-air commentator, appearing on such varied venues as the A&E Network, the History Channel, and NBC's TODAY show. Most recently, he appeared on the Fox News series, "Legends & Lies."
Dr. Loyd Uglow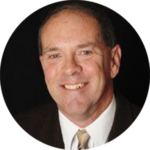 Loyd Uglow holds a master's degree in history from the University of West Florida, with some coursework from the Naval War College and a Ph.D. in history from the University of North Texas. He chairs the history department at Southwestern Assemblies of God University. His previous books include Standing in the Gap: Army Outposts, Picket Stations, and the Pacification of the Texas Frontier, 1866-1886 (TCU Press), two children's biographies, and two military historical novels. He is a retired Commander (Surface Warfare) in the U.S. Naval Reserve.
"The Siege and Capture of the Alamo: Strategy, Tactics, and What Ifs"
This presentation will move from the larger strategic context of the Alamo in the Texas Revolution; to an examination of the men, weapons, and tactical deployments on each side and detailed narrative of the capture of the mission; to a look at possible alternative scenarios if forces on one or both sides had taken different courses of action.
---
Feb. 25
Texas Independence Day Celebration
Join us for a Texas Independence Day celebration. Get a private, up-close look at Texas Liberty Forever! a Battle of the Alamo diorama in person. Proceeds of this event benefit the Dallas Historical Society, an organization devoted to preserving and exhibiting the heritage of Dallas and Texas to educate and inspire present and future generations.
Hosted By:
Lisa & Clay Cooley
Jeanette & Stan Graff
Susan & Bob Jenevein
Mary & Bill Pickens, Jr.
Rogge Dunn Group, PC
Scheef & Stone – Solid Counsel
Sullivan & Cook, LLC
Featuring Music By:
Thanks to These Sponsors:
---
Join the Dallas Historical Society for a  fun-filled family day held at history making, Klyde Warren Park. This free to the public event will highlight and celebrate our great city, state and local organizations with live performances, exhibits and special guest appearances.
Live performances by local cultural groups and artists
Specially curated exhibit from the DHS Collection
Fun Dallas Pop-Ups & Activities
Games & Giveaways
Dallas' Best Food Trucks
For over 100 years, the Dallas Historical Society has been the preeminent repository for the collection, preservation, and exhibition of the unique heritage of Dallas and Texas. As we commemorate our Centennial year, we will celebrate the great history of our city and state as well as look forward to the next 100 years.
presented by:
---
---