Dallas History Makers
Awards for Excellence Luncheon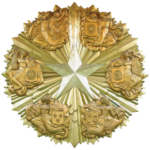 The Dallas Historical Society is thrilled to announce the Dallas History Makers luncheon, formerly the Awards for Excellence.  The Dallas Historical Society is kicking off its second century with a new awards luncheon logo and name while continuing to honor its traditions and the Dallas History Makers of today.
Since 1981, outstanding individuals and organizations are selected for this honor from nominations solicited from the Dallas community.  The recipients are chosen for their contribution to the quality of life in Dallas in ten categories – Arts Leadership, Business, Creative Arts, Education, Health/Sciences, Humanities/History, Philanthropy, Sports Leadership, Volunteer Community Leadership or for the special Jubilee History Maker Award.
SAVE THE DATE | Nov. 17 2023 | 11:00 AM
REGISTRATION IS OPEN NOW
Click the button below to become a sponsor and reserve your spot at the luncheon.
---
DALLAS HISTORY MAKER 2023 RECIPIENTS
Arts Leadership
Gail Sachson – Committed to the arts as a planner, organizer, fundraiser, collector, historian and educator serving as Chair of the Dallas Cultural Affairs Commission, founding Inspire Art Dallas and serving on countless boards benefiting the arts
Creative Arts
Lyric Stage – Preserving and developing the great American musical with a commitment to bring exemplary productions to the heart of Dallas at the historic Majestic Theater
Education
Dr. Carine Feyten – Chancellor of Texas Woman's University and serving many of Dallas' educational organizations with a deeply rooted commitment to educational excellence and equal access opportunities
History
Talmage Boston – Dedicated to advancing historical knowledge and inspiring others to learn, enriching our understanding of the past and strengthening our connection to the present
Humanities
Friends of Aldredge House – Supporting the operations of the Aldredge House, a living example of history and crown-jewel of Swiss Avenue, providing creative performance pieces and speaker series
Sports Leadership
Brad Sham — The voice of the legendary Dallas Cowboys football team for over 40 years, and beloved leader in the Dallas and national sports scene
Volunteer Community Leadership
Tori Mannes – Long-time dedication to bettering the lives of families and the future generations of Dallas through education and leadership
Jubilee History Maker
Michael Boone – Embodying community spirit and civic leadership that have made a positive impact on public education, the arts, and business in Dallas
Dallas Historical Society Benefactor of the Year
Stan Graff – Committed to the Dallas Historical Society and its work in education and preservation of history, specifically Texas history
---
PAST RECIPIENTS
Presenting Sponsor:
---
---