Join the Dallas Historical Society for the An Evening With! series. Explore Dallas and Texas history with authors and experts who will speak on a range of historical subjects. CLICK HERE to join our newsletter and be notified about upcoming lectures and programming

Aug. 24 | 6:30 PM
Growing Up in the Lone Star State:
Notable Texans Remember Their Childhoods
An Lecture by Gaylon Finklea Hecker and Marianne Odom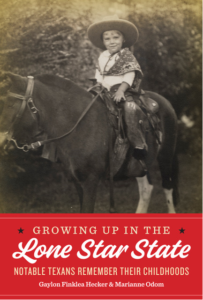 Journalists Gaylon Finklea Hecker and Marianne Odom have been collecting oral histories since 1981. Their book, Growing Up in the Lone Star State: Notable Texans Remember Their Childhoods, features a fascinating collection of oral history interviews that capture the spirit of Texas in the early 20th century. From stars of stage and screen to politics, sports and business legends, these famous Texans describe how life in the Lone Star State gave them the courage to follow their dreams. Join us for a nostalgic evening with anecdotes and photos from outstanding Texans with Dallas-Fort Worth metroplex connections such as Miss America Phyllis George, business giants Mary Kay Ash and Jimmy Dean, singers Trini Lopez and Delbert McClinton, TV anchor Bob Schieffer and sports novelist Dan Jenkins. The lessons learned during a gentler, simpler time still have relevance today. A book signing will follow.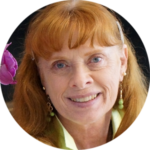 Gaylon Finklea Hecker was a reporter for the San Antonio Light and San Antonio Express-News and associate editor of SA: The Magazine. She also was editor of the Jewish Journal in San Antonio and The Jewish Outlook in Austin and worked in corporate communications. She is the author of five recent books concerning Texas history. She is a journalism graduate of The University of Texas at Austin. She was raised in Hull-Daisetta, the Mayberry of southeast Texas. She lives in Austin.
Marianne Odom covered fashion in New York, Paris, California and around Texas for the San Antonio Express-News and won accolades for revealing profiles of celebrities. She was a reporter for the Tyler Courier-Times-Telegraph and is a contributing editor for Edible San Antonio magazine. The longtime educator taught journalism and advised student publications at Tyler Junior College and San Antonio College. She has a bachelor's degree from the University of North Texas and a master's degree from Texas A&M University-Commerce. She was raised in Tyler and lives in San Antonio now.
---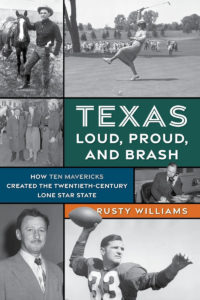 The history of New Texas, the Texas we know today—oil-rich, insufferably loud, and unbearably proud of itself—begins in the late 1920s, when a horned frog wakes from its thirty-one-year nap in a courthouse cornerstone and flabbergasts the nation. In slightly over two decades ten individuals—their words, actions, and accomplishments—come to define the New Texas of the twenty-first century. While the history of Old Texas rests on oft-told legends of Houston, Austin, Travis, Crockett, Rusk, Lamar, and Seguin, today's New Texas—proud, loud, self-promotional, sports-crazy, and too rich for its own good—is the Texas that percolates throughout the nation's popular culture. In Texas Loud, Proud, and Brash: How Ten Mavericks Created the Twentieth-Century Lone Star State, author Rusty Williams profiles ten largely unsung men and women responsible for the Texas you love, hate, and (secretly) envy today.
Join author Rusty Williams for a discussion and book signing. Rusty Williams is the author of Red River Bridge War: A Texas-Oklahoma Border Battle (Texas A&M Press, 2016), which won the Oklahoma Book Award and was named the Outstanding Book on Oklahoma History of 2016 by the Oklahoma Historical Society. Williams is also the author of My Old Confederate Home: A Respectable Place for Civil War Veterans (University Press of Kentucky, 2011). He regularly speaks to historical societies, book groups, and cultural gatherings. Williams contributes articles to historical magazines and journals
---