An Evening With! lecture series
Join the Dallas Historical Society for the An Evening With! series. Explore Dallas and Texas history with authors and experts who will speak on a range of historical subjects. CLICK HERE to join our newsletter and be notified about upcoming lectures and programming

Apr. 11 | 6:30 PM
Our Stories: Black Families in Early Dallas
An Lecture by Judith Segura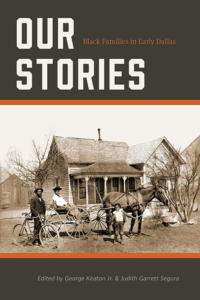 Judith Garret Segura will discuss Our Stories: Black Families in Early Dallas, the book she co-edited with the late Dr. George Keaton, Jr. Our Stories expands upon two works published over 30 years ago by Dr. Mamie McKnight's organization, Black Dallas Remembered. The book reveals the little-known history of some of Dallas's earliest Black families and the communities they created. Copies of the book will be available for purchase.
Judith Garrett Segura is a fifth-generation Texas and author of BELO: From Newspapers to New Media, a history of DallasNews Corporation, Texas's oldest business institution, which dates from 1842. She is retired from the former Belo Corp. and continues to serve as the company historian. In retirement, she has devoted herself to volunteer research and writing projects for the local nonprofit organizations White Rock Chapel of Addison and Remembering Black Dallas. She co-edited, with Dr. George Keaton, OUR STORIES: Black Families of Early Dallas, published by UNT Press in 2022.
---
Apr. 27 | 6:30 PM
Dallas: A Texas Star
An Lecture by Carolyn Brown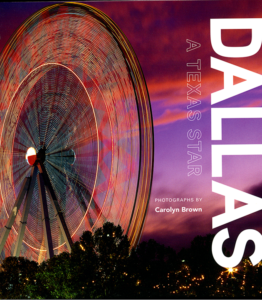 Carolyn Brown began photographing ancient architecture while living in Cairo, Egypt, where she did graduate work in art history at the American University of Cairo. Later traveled throughout Mexico, photographing pre-Hispanic and Vice Regal architecture, nature, and people. Presently, she is an architectural and fine arts photographer in Dallas, Texas, specializing in preservation projects, flowers, landscapes, and ancient sites. She has done six books—either in part or the whole book on Dallas. The new Dallas Book is complimented by several essayists who tell their personal stories about living and working in Dallas. It was printed by TCU Press.
Brown's presentation will review past books and show a few works and words from each chapter of the book. Calvert Collins Bratton will read quotes from the women's essays, and Willis Cecil Winters will read quotes from the men's essays.
Her work is regularly shown at Craighead Green Gallery, Dallas, TX, and the Edith O'Donnell Institute of Art History at the Dallas Museum of Art and the University of Texas at Dallas. Her archives are promised to the Edith O'Donnell Institute of Art History upon her death.
---
May 11 | 6:30 PM
Blood & Thunder:
The Life and Art of Robert E. Howard
A Lecture by Mark Finn
Author and biographer Mark Finn talks about Robert E. Howard, his life and times, and makes his case for Howard being included in Texas' rich literary history and tradition. Mark Finn is an author, actor, essayist, pop culture critic, and movie reviewer. He is a nationally recognized authority on Robert E. Howard and has written extensively about the Texas author. His biography, Blood and Thunder: The Life and Art of Robert E. Howard, was nominated for a World Fantasy award in 2007 and is currently available in an updated and expanded second edition. His fiction, articles, essays, reviews, short stories, and comics have been published by Marvel Comics, Dark Horse Comics, DC/Vertigo Comics, The University of Texas Press, Greenwood Press, Tachyon Press, and others. He lives in North Texas, over an old movie theater, along with his high school sweetheart, far too many books, and an affable pit bull named Sonya.
---
May 18 | 6:30 PM
Sitting on a Keg of Dynamite
An Lecture by John Neal Phillips
Author John Neal Phillips, author of Running with Bonnie and Clyde : The Ten Fast Years of Ralph Fults, discusses the topic of his latest book: Sitting on a Keg of Dynamite: Father Bill, Texas City, and a Disaster Foretold.
John Neal Phillips will discuss the events leading to the Texas City Disaster, 1947, to date, the worst industrial accident in the United States, killing nearly 600 people and causing millions of dollars of damage. One of the victims, a Roman Catholic priest named Father Bill Roach, was part of a group of local citizens seeking to improve living and working conditions in Texas City. That Roach was at the explosion's epicenter was no surprise to those who knew him –and most everyone in town knew him. Numerous contemporary photographs will support detailed information about Roach, the deadly explosion of thousands of tons of ammonium nitrate that took his life, and the related industrial fires that burned for weeks.
This event is free to the public, as part of Dallas Historical Society's evening lecture series.
---
Jun. 22 | 6:30 PM
An Evening With! Dr. W. Marvin Dulaney
Dr. W. Marvin Dulaney is Deputy Director and Chief Operations Officer for the Dallas African American Museum. Before joining the Museum in March 2020, he was Associate Professor of History Emeritus, the former Interim Director of the Center for African American Studies, and the former Chair of the Department of History at the University of Texas, Arlington. He is a native of Alliance, Ohio. He serves on the editorial board of Legacies: A History Journal for Dallas and North Central Texas. He has won numerous awards for his community service, activism, and scholarship.
---
Jul. 27 | 6:30 PM
Standing in the Gap:
Army Outposts, Picket Stations, and the Pacification of the Texas Frontier
An Lecture by Dr. Loyd Uglow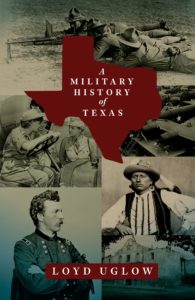 Dr. Uglow will discuss U.S. and Texas military efforts to defend the Texas frontier against various Native American opponents during the periods before and after the Civil War, with emphasis on forts and posts, long-range defensive patrols, and eventual offensive campaigns.
Loyd Uglow holds a master's degree in History from the University of West Florida, with some course work from the Naval War College, and a Ph.D. in History from the University of North Texas. He is past chairman of the History Department at Southwestern Assemblies of God University. He is the author of A Military History of Texas, the first general history of the state with a military focus. His previous books include Standing in the Gap, two children's biographies, and two military historical novels. He is a retired Commander (Surface Warfare) in the United States Naval Reserve.
---
Aug. 24 | 6:30 PM
Growing Up in the Lone Star State:
Notable Texans Remember Their Childhoods
An Lecture by Gaylon Finklea Hecker and Marianne Odom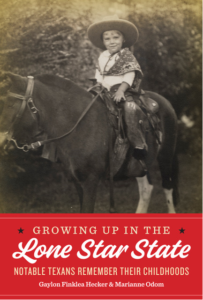 Journalists Gaylon Finklea Hecker and Marianne Odom have been collecting oral histories since 1981. Their book, Growing Up in the Lone Star State: Notable Texans Remember Their Childhoods, features a fascinating collection of oral history interviews that capture the spirit of Texas in the early 20th century. From stars of stage and screen to politics, sports and business legends, these famous Texans describe how life in the Lone Star State gave them the courage to follow their dreams. Join us for a nostalgic evening with anecdotes and photos from outstanding Texans with Dallas-Fort Worth metroplex connections such as Miss America Phyllis George, business giants Mary Kay Ash and Jimmy Dean, singers Trini Lopez and Delbert McClinton, TV anchor Bob Schieffer and sports novelist Dan Jenkins. The lessons learned during a gentler, simpler time still have relevance today. A book signing will follow.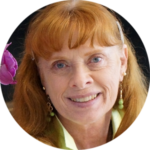 Gaylon Finklea Hecker was a reporter for the San Antonio Light and San Antonio Express-News and associate editor of SA: The Magazine. She also was editor of the Jewish Journal in San Antonio and The Jewish Outlook in Austin and worked in corporate communications. She is the author of five recent books concerning Texas history. She is a journalism graduate of The University of Texas at Austin. She was raised in Hull-Daisetta, the Mayberry of southeast Texas. She lives in Austin.
Marianne Odom covered fashion in New York, Paris, California and around Texas for the San Antonio Express-News and won accolades for revealing profiles of celebrities. She was a reporter for the Tyler Courier-Times-Telegraph and is a contributing editor for Edible San Antonio magazine. The longtime educator taught journalism and advised student publications at Tyler Junior College and San Antonio College. She has a bachelor's degree from the University of North Texas and a master's degree from Texas A&M University-Commerce. She was raised in Tyler and lives in San Antonio now.
---
Mar. 30 | 6:30 PM
An Empire on Parade
The Texas Centennial Exposition at Fair Park
An Lecture by David Bush & Jim Parsons
Fair Park is one of the country's finest collections of Art Deco architecture, but it is so much more: the embodiment of Texan swagger; it is a testament to the Texanic task of creating a dazzling spectacle in the darkest days of the Depression. This illustrated lecture by David Bush and Jim Parsons, authors and photographers of Fair Park Deco, tells the story of the 1936 Texas Centennial Exposition and how dozens and local and national architects and artists transformed the state fairgrounds into an Art Deco wonderland. During their talk, Bush and Parsons will discuss the design and construction of the "Magic City" using historic and current photos and archival newsreel footage. They'll also introduce some of the fair's most colorful stories and people, including Mademoiselle Corrine, the "Apple Dancer," whose performances were the talk of Dallas.
David Bush, Preservation Houston's Executive Director, developed his interest in historic architecture in his hometown of New Orleans. He holds a master's degree in historic preservation from Middle Tennessee State University. He has worked professionally in preservation since 1990, spending most of his career with Galveston Historical Foundation and Preservation Houston.
Jim Parsons, a native of Baytown, puts a passion for the state's history and architecture to work coordinating programs and educational outreach as Programs Director for Preservation Houston. In addition to his preservation work, Jim has written about and photographed cities across the United States as a freelance author, editor, and photographer.
---
An Evening with! Lecture Series 2023 | 2022 | 2021 | 2020 | 2019
---
Pages: 1 2