When:
November 10, 2021 @ 6:30 pm – 8:30 pm
2021-11-10T18:30:00-06:00
2021-11-10T20:30:00-06:00
Where:
Hall of State, Fair Park
3939 E. Grand Ave. Dallas
TX 75210
Contact:
Deah Berry Mitchell
2144214500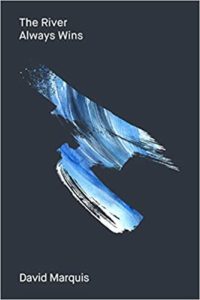 Featured Book: The River Always Wins: Water as a Metaphor for Hope and Progress by David Marquis
A meditation on movement of both society and nature, based on the author's experiences as an activist. In short, aphoristic chapters, Marquis explores the power of force and collectivity through the metaphor of water. As an activist, David Marquis founded the Oak Cliff Nature Preserve in Dallas, and has consulted with the Texas Conservation Alliance since 2011. He brings an unerring belief in the connective and healing power of nature to The River Always Wins.
Moderated by Kathryn Holliday, the discussion features the panelists/topics:
Samantha Dodd (Archives of Women of the Southwest – SMU DeGolyer Library) – History – Sarah Cockrell and her entrepreneurial work to build bridges, including the iron suspension bridge,  and its impact on the development of the city.
Molly Plummer  (Senior Program Manager – The Trust for Public Land) – How land use policies around water/waterways were used to shape Dallas' development.
David Marquis (Book Author and Environmentalist ) – How environmentalists and activists have helped shape the development of Dallas.