When:
December 16, 2021 @ 6:30 pm – 8:00 pm
2021-12-16T18:30:00-06:00
2021-12-16T20:00:00-06:00
Where:
Hall of State, Fair Park

Contact:
Deah Berry Mitchell
(214) 421-4500 ext. 107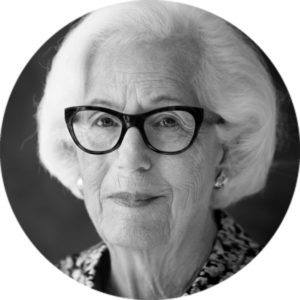 Author, Jerrie Marcus Smith, the oldest daughter of Stanley Marcus, whose aunt was Carrie Neiman, is the author and discusses her recently released book, "A Girl Named Carrie: The Visionary Who Created Neiman Marcus and Set the Standard for Fashion". Jerrie is interviewed by journalist, Michael Granberry.
Jerrie Marcus Smith remembers her great aunt Carrie as a humorless woman who always wore black and who, Jerrie says, "scared me to death." Only as an adult did Jerrie grasp the impact of Carrie Marcus Neiman. Along with her brother, Herbert Marcus Sr., and her husband A.L. Neiman, Carrie co-founded the famed Neiman Marcus department store in Dallas, Texas in 1907. Carrie played an integral role in the store's success — despite, Jerrie marvels, having three strikes against her: She was a woman. She was Jewish. And (after her husband's illicit relationship with a second-floor saleswoman) she was divorced. Yet she with impeccable taste and exemplary manners; who traveled as a buyer to New York in the 1920s (without a man!); who, as Jerrie says, "was nobody's pushover," has been sorely overlooked in the history of this legendary store. Carrie was self-taught and never attended college. Jerrie earned an art history degree from Smith College. Carrie's only pregnancy ended in miscarriage; she worked at Neiman Marcus until her death at age 66. Jerrie, following an unwritten mandate for women in the 50s, stayed home to raise her five children. Yet through memories shared by her father, the late Neiman Marcus legend Stanley Marcus, as well as through spellbinding interviews with long retired salespeople, Jerrie has felt inextricably tied to Carrie. She feels as compelled to tell Carrie's story as she was to share a side to her father not many people knew: Reflection of a Man: The Photographs of Stanley Marcus, was Jerrie's first book, which she co-authored with her youngest child, photographer Allison V. Smith.
Each recollection of Aunt Carrie, each remembrance, each detail melted away Jerrie's childhood fear of the stern woman in black, leaving in its place a colorful portrait of a person to be admired, to be loved and — perhaps most of all — to be shared.