When:
November 9, 2023 @ 6:30 pm – 8:00 pm
2023-11-09T18:30:00-06:00
2023-11-09T20:00:00-06:00
Where:
Hall of State, Fair Park
3939 Grand Ave. Dallas TX 75210
Contact:
David Lee
(214) 421-4500 ext. 104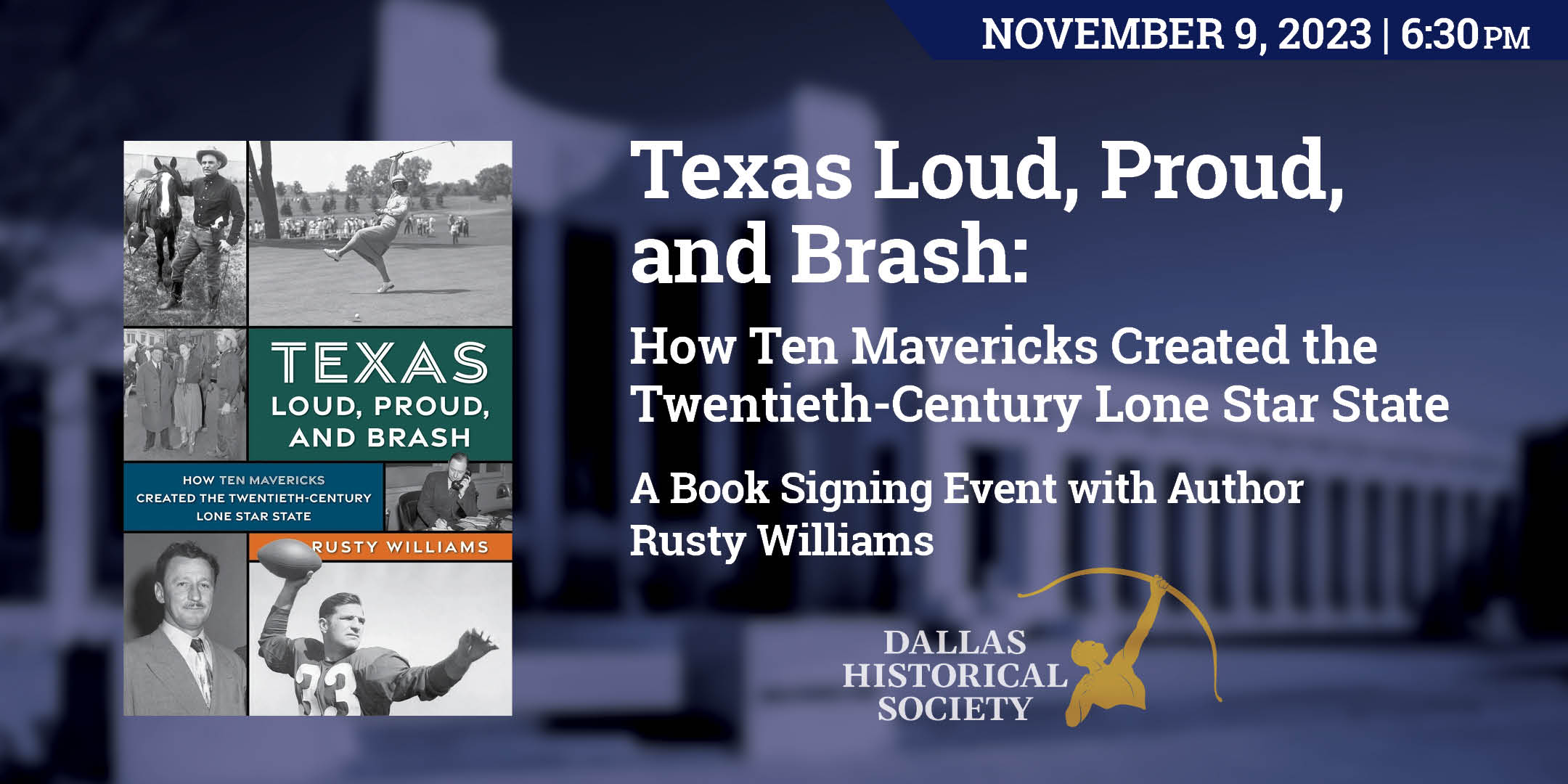 The history of New Texas, the Texas we know today—oil-rich, insufferably loud, and unbearably proud of itself—begins in the late 1920s, when a horned frog wakes from its thirty-one-year nap in a courthouse cornerstone and flabbergasts the nation. In slightly over two decades ten individuals—their words, actions, and accomplishments—come to define the New Texas of the twenty-first century. While the history of Old Texas rests on oft-told legends of Houston, Austin, Travis, Crockett, Rusk, Lamar, and Seguin, today's New Texas—proud, loud, self-promotional, sports-crazy, and too rich for its own good—is the Texas that percolates throughout the nation's popular culture. In Texas Loud, Proud, and Brash: How Ten Mavericks Created the Twentieth-Century Lone Star State, author Rusty Williams profiles ten largely unsung men and women responsible for the Texas you love, hate, and (secretly) envy today.
Join author Rusty Williams for a discussion and book signing. Rusty Williams is the author of Red River Bridge War: A Texas-Oklahoma Border Battle (Texas A&M Press, 2016), which won the Oklahoma Book Award and was named the Outstanding Book on Oklahoma History of 2016 by the Oklahoma Historical Society. Williams is also the author of My Old Confederate Home: A Respectable Place for Civil War Veterans (University Press of Kentucky, 2011). He regularly speaks to historical societies, book groups, and cultural gatherings. Williams contributes articles to historical magazines and journals.