When:
May 11, 2023 @ 6:30 pm – 8:00 pm
2023-05-11T18:30:00-05:00
2023-05-11T20:00:00-05:00
Where:
Hall of State, Fair Park
3939 E. Grand Ave.
Contact:
David Lee
(214) 421-4500 ext. 104
Robert E. Howard, creator of Conan, King Kull, and others that defined heroic fantasy, lived and died in the small town of Cross Plains, Texas. While his books remain in print, Howard himself has fallen into obscurity, his life mired in speculation and half-truth. Mark Finn traces the roots of his writings , correcting long-standing misconceptions, and offers a tour of Howard's world as he saw it: through his own incomparable imagination. The presence of the Texas Hill Country surrounding Cross Plains are apparent in Conan the Barbarian's world of Hyboria. Author and biographer Mark Finn talks about Robert E. Howard, his life and times, and makes his case for Howard being included in Texas' rich literary history and tradition.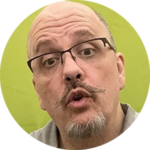 Mark Finn is an author, actor, essayist, pop culture critic, and movie reviewer. He is a nationally recognized authority on Robert E. Howard and has written extensively about the Texas author. His biography, Blood and Thunder: The Life and Art of Robert E. Howard, was nominated for a World Fantasy award in 2007 and is currently available in an updated and expanded second edition. His fiction, articles, essays, reviews, short stories, and comics have been published by Marvel Comics, Dark Horse Comics, DC/Vertigo Comics, The University of Texas Press, Greenwood Press, Tachyon Press, and others. He lives in North Texas, over an old movie theater, along with his high school sweetheart, far too many books, and an affable pit bull named (Red) Sonya.