Exhibitions
---
Texas Liberty Forever!
March 2022
Created by Pennsylvania-based artist Thomas Feely, Jr. over 18 years and stretching across more than 336 square feet in size, the Texas Liberty Forever! diorama is the largest depiction of its kind and serves as the centerpiece of the Battle of the Alamo Exhibit at the Hall of State. The re-creation of the besieged Alamo compound features 2,000 hand-painted figures poised in battle, just as combatants were on the morning of March 6, 1836. Painstakingly researched and exquisitely detailed, the diorama showcases every aspect of the legendary battle—from artillery pieces and wagons, to cattle, horses, fortresses, and topography, all represented in 1/32 scale (54 mm). The exhibit, which opens in March 2022, offers a bird's eye view of history as it was unfolding—Colonel Romero's charge on the cattle corral, troops spilling over the northeast wall into the courtyard, defenders perched atop the Alamo Chapel, and many more action scenes that bring the battle to life. Feely, who crafted and painted each figure separately, designed the Texas Liberty Forever! diorama in four pieces which were purchased, crated, and shipped to the Hall of State, through the extensive efforts of the Dallas Historical Society and its many supporters.
Battle of the Alamo by Mark Birnbaum Productions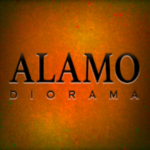 Designed to enhance your experience viewing the diorama, this app is an immersive storytelling tool that provides a comprehensive play-by-play of one of the most revolutionary sieges in American history. It offers 360 panoramas that place you at pivotal battle locations around the Alamo fortress, as well as an augmented reality-enhanced narrative feature that uses target imagery and stunning 3D visualizations to bring these climactic moments to life.
Texas Liberty Forever! is an interactive experience. Click on the links below to download the companion app to your smartphone or tablet
CREATED IN PARTNERSHIP WITH

---
The Tom & Alicia Landry Family Collection
January 2021

Opening to the public on January 5, 2021, this collection tells the story of the man behind the legend, featuring more than 60 mementos from Landry's life, some of which have never been seen by the public. These relics from Landry's life include items from his childhood in Mission Texas, his time as a college and professional athlete, his illustrious career as the head coach of the Dallas Cowboys and his induction into the NFL Hall of Fame. The collection will have a permanent home with the Dallas Historical Society at the Hall of State in Fair Park.
---
CLICK HERE to see past exhibits