Student Programming and Field Trips
---
SCHEDULING INFORMATION
To schedule any program, please call or email our Booking Line at 214-421-4500 x 104 or simply fill out this form and someone will be back in touch shortly.
If your program is scheduled to take place at the Hall of State, please plan to arrive at least 10 minutes prior to the beginning of the program.
For pre- and post- activities, free program downloads and TEKS material, click here for the DHS Teacher Resource Page.
To take a brief survey about one of our tours or performances, please click HISTORIC CHARACTER SURVEY or TOUR SURVEY.
---
VISITING THE HALL OF STATE IN HISTORIC FAIR PARK
30 minute tour (50 student max/tour)
Grades 3-12
Docent led
$4.00 per student
We request 1 adult chaperone for every 10 students. Complimentary tickets are provided for these chaperones and bus driver. Additional chaperones are required to purchase a ticket at the rate of $5.00 per person.
Students will learn about Texas history while touring the Great Hall of the Hall of State, which was built as a part of the 1936 Centennial to honor Texas State History. Guided tour features the murals, statues, architecture, photographs and current museum exhibits that illustrate Texas History. The Texas History Tour is available Tuesday-Friday from 10 AM to 5 PM.
Self-guided
All Grades
Free
Students will learn about Texas History while touring the Hall of State, which was built as part of the 1936 Centennial to honor Texas State History. Self-Guided tours feature the murals, statues, architecture, photographs and current museum exhibitions that illustrate the great history of Texas. Information about the building is available for FREE download on the Teacher Resource Page.
---
EXHIBITS AND TRAVELING TRUNKS
CLICK HERE to see a list of current exhibits.
Recommended for Grades 3rd and up
All exhibits are located in the Hall of State in Fair Park
FREE Admission
WAYS OF THE WEST HANDS-ON EXHIBIT AND TRAVELING TRUNK
Grades 1-4.
Available any day of the week.
Each presentation will be approximately 30 minutes long.
Flat Rate of $250 which includes TWO 30-minute presentations for 25 students each (50 students total).
Additional 30-minute presentations are $50 each.
Can be an in-school or field trip program.
Traveling Hands-On Exhibit facilitates a discussion of Native Americans, cowboys and cattle drives, life on the Texas frontier, the ranching industry, as well as frontier games and toys.
---
HISTORIC CHARACTER PERFORMANCES
All character performances are available in-school as well as at the Hall of State as a field trip
Programs not available at the Hall of State during the State Fair of Texas
Duration of program is 45 minutes to one hour with an optional Q & A session for the students
$300 First Performance; $100 (each) 2nd and 3rd Performance (same character). Max three in one day.
HISTORIC CHARACTERS FOR GRADES 3-12
---
STORYTELLING PERFORMANCES
Tales from the Trail (a.k.a. Cowboy Jack)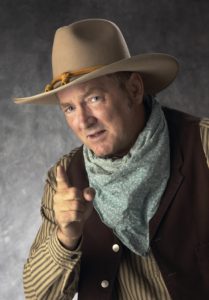 Reminisce with "Ole Big Tex," a real cowboy, as he remembers his life and adventures on the cattle trail from ranch to market. Stories, songs and hands-on objects bring the Texas cattle trail to life in front of students' eyes.
For Grades K – 4
"Aunt Rose" tells Fairy Tales Texas Style, based upon tall tales of Texas history! Texas has a history as big as the state and the stories about Texas heroes are a match. Engaging story telling depicts morals, responsibilities, customs and traditions via tales of the past.
For Grades K – 4
---