Publications
---
A TEXAS JOURNEY: THE CENTENNIAL PHOTOGRAPHS OF POLLY SMITH BY EVELYN BARKER ; PUBLISHED BY THE DALLAS HISTORICAL SOCIETY, 2008.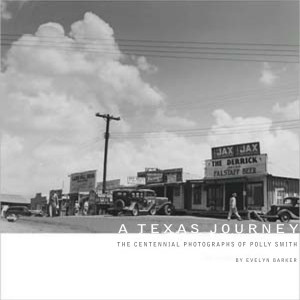 PRODUCT DESCRIPTION
In 1935, Texas was preparing for its biggest celebration to date: a world's fair to commemorate the centennial of its independence from Mexico. Centennial officials eager to publicize the event needed an abundance of photographic images that would put the state in the best possible light.
They hired a young photographer, Polly Smith, who had recently returned from studying in New York, to travel the length and width of the state. Her mission was to capture the people and places that made Texas unique.
$20 Members/ $25 Non Members
---
BIG B IN BIG D: A HISTORY OF BUSINESS IN DALLAS COUNTY
PRODUCT DESCRIPTION
By David E. Perryman; published by the Dallas Historical Society, 2009. Big B in Big D chronicles the history of Dallas and the businesses that have impacted the city, its economy and its character. The book, which was released in October 2009, is commissioned by the Dallas Historical Society and written by David E. Perryman, the director of alumni relations for the School of Medicine at the UT Health Science Center-San Antonio.
$20 Members/ $25 Non Members
---
Fair Park
PRODUCT DESCRIPTION
Photographic history or Fair park as told by Willis Winters, Fair Park expert.
$20 Members/ $25 Non Members
---
TOM LEA AND TEXAS
PRODUCT DESCRIPTION
The definitive narrative of Texas artist Tom Lea as told by historian, J.P. Bryan. Limited and numbered.
$7 Member/ $10 Non Member