Special Events
---
The Meeting
May 4-19, 2018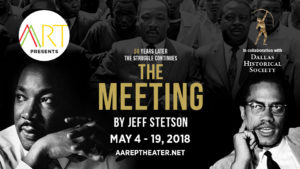 Fascinating and dramatically compelling, this eloquent play depicts the supposed meeting between two of the most iconic men of the Civil Rights Era—Dr. Martin Luther King, Jr. and Malcolm X. Differing in their philosophies but alike in their mutual respect, these great thinkers debate their varying approaches to the grave social problems that plague our nation. Both were prepared to die for their beliefs, but neither was aware of how soon his assassin's bullet would strike.
For tickets and more information:

aareptheater.net

or 972.572.0998
---
FOR QUESTIONS OR TO RESERVE SPACE FOR GROUPS
PLEASE EMAIL booking@dallashistory.org
OR CALL (214)421-4500
PRESENTED BY
DALLAS HISTORICAL SOCIETY
---
DHS programs sponsored in part by: City of Dallas-Office of Cultural Affairs
To become a DHS member, click here.