Past Exhibitions
2016 State Fair of Texas  (September 30, 2016 – October 23, 2016)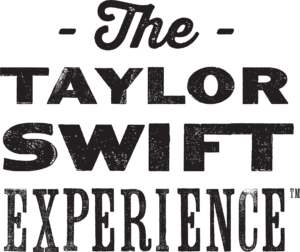 After a history-making run at the Grammy Museum in Los Angeles, The Taylor Swift Experience™ is making its way to the Lone Star State with a brand new collection of memorabilia from the superstar's archive as a featured exhibit at the State Fair of Texas. The famed exhibit takes fans through her journey as a singer, songwriter and global superstar, showcasing memorable performance costumes, tour photos, and instruments. The exhibit also features a special collection of memorabilia that has never been displayed in this unique combination before, such as the light blue Reem Acra gown she wore at AT&T Stadium in Arlington, Texas during the ACM Awards 50th Anniversary. The Fair is thrilled to host this one-of-a-kind exhibit in the historic Hall of State building, with the excitement of providing an attraction that appeals to all ages. Diehard fans are sure to recognize some of Taylor's trademark wardrobe pieces, from the rhinestone-studded ringmaster ensemble she wore for "We Are Never Ever Getting Back Together" on The RED Tour, to the custom-beaded outfit she wore at the 2014 American Music Awards when she premiered "Blank Space." Regardless of age or musical preference, visitors will gain a better understanding of Taylor's achievements that led her to super-stardom and her impact on the entertainment industry worldwide.  During the run of the exhibit the film "Taylor Swift: In Her Own Words" will be playing in the Margaret and Al Hill Lecture Hall.
This exhibit is free to the public, however State Fair admission and parking fees are required to enter Fair Park where the Hall of State is located.
---
 Ways of the West (December 15, 2015 – October 23, 2016)
A hands on exhibit for children and adults alike that explains the day to day life of Texas' western heritage through hands on activities and displays.

---
Vaquero: Genesis of the Texas Cowboy
(April 16 – October 23, 2016)
In the early 1970's, noted Texas historian Joe Frantz offered Bill Wittliff a once-in-a-lifetime opportunity to visit a ranch in northern Mexico where the vaqueros still worked cattle in traditional ways. Wittliff photographed the vaqueros as they went about these daily chores that had changed little since the first Mexican cowherders learned to work cattle from a horse's back.
---
Special Exhibit: San Jacinto (Battle of San Jacinto)
(April 16-24, 2016)
The Battle of San Jacinto was fought on April 21, 1836. The battle lasted less than an hour with the Texans under General Sam Houston defeating the army of General Santa Anna. This decisive battle led to Texas independence from Mexico. On display will be rare items including Sam Houston's handwritten report of the Battle of San Jacinto and Santa Anna's spurs.
---
Special Exhibit: Texas Our Texas (March 5, 2016)
The exhibit features special collections from the holdings of the Dallas Historical Society dating to the Texas Revolution for independence. This special one day exhibit at the Scottish Rite cathedral and library of Dallas is in conjunction with the speaker on the history of the Battle of the Alamo.
---
The Dust Bowl (November 9th-March 20th, 2016)
Heavy black clouds of dust rising over the Texas Panhandle, March 1936, LC-DIG-fsa-8b27276 (digital file from original negative). Prints and Photographs Division, Library of Congress.
Striking at the depth of the Great Depression, the Dust Bowl blasted the hopes and hard work of people in the Great Plains. For those who lived through it, the experience was unmatched as an example of ecological calamity and a test of personal will. The Dust Bowl can bridge the gap between generations and promote understanding of the pioneering will to prevail in the face of immutable laws of nature.
---
Remember the Alamo! Remember Goliad! Battles for Texas Independence (March 1st-7th, 2016)
The exhibit focuses on the conflict for Texas' freedom. The Alamo: a Spanish mission, a Mexican fortress and the Shrine of Texas Liberty. On March 6, 1836 General Santa Anna's forces overtook the Alamo slaying all 200 Texans defending its walls. The Goliad Campaign of 1836 ended with the resulting Goliad Massacre. Unique artifacts, including Davey Crockett's pistol from the Alamo and Fannin's watch from Goliad, will be on display.
---
 Special Exhibit: City of Dallas Founders Day
(November 7th-15th)
Exhibit features items from the DHS collection that belonged to John Neely Bryan (1810– 1877). In November of 1841, Bryan settled on the east bank of the Trinity River, not far from the present location of downtown, and founded Dallas.
---
 Big Texas Music (September 25th-October 18th)
Texas music is celebrated not only here in our great state, but all across the country. "Big Texas Music," honoring well-known Texas artists through memorabilia, audiovisual displays and social interactives, as well as daily live music performances from a wide variety of artists. The exhibit features both artists who were born in Texas and those who have lived here and consider themselves natives. Spanning numerous decades, "Big Texas Music" showcases famous Texas musicians from every genre, celebrating the diverse range of talent hailing from the Lone Star State. Check out "Big Texas Music" daily from 10 a.m. to 7 p.m. in the Hall of State. Entrance to this exhibit is FREE with State Fair admission.
Raffle tickets -Sold out
---
BEHOLD THE PEOPLE: R. C. Hickman's Photographs of Black Dallas, 1949–1961 (June 19th, 2015 to Aug 15th, 2015)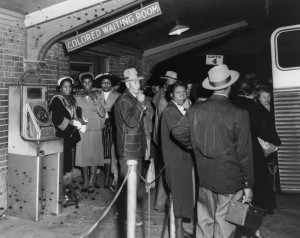 R. C. Hickman was a Dallas photographer whose thousands of images produced from 1949 to 1961 document life in an African American community in Texas. His photographs depict a community largely invisible to white Americans—thoroughly a part of mainstream America by virtue of accomplishment and lifestyle but excluded from it because of race. His images reveal his awareness of the broad community context within which individuals survive, grow, and understand themselves.
Photo Credit: Colored waiting room, 1952. R. C. Hickman Photographic Archive (DI00964), The Dolph Briscoe Center for American History, The University of Texas at Austin
---
Texas in the Time of Revolution(February  24th – August 9th, 2015)
The story of the Texas Revolution for independence told through rare artifacts. The exhibit focuses on the heroes, engagements, uniforms, and weapons of the conflict for Texas' freedom. On display are unique artifacts such as Davey Crockett's pistol from the Alamo, Fannin's watch from Goliad, a medal for valorous service to Mexico, and Santa Anna's spurs from San Jacinto.
---

AN ARGUMENT FOR DALLAS:  100 Years of the Federal Reserve Bank of Dallas 1914–2014 (December 19th, 2014 to June 5th, 2015)
Learn about the arguments that civic leaders made on behalf of Dallas as they sought to win a reserve bank for the city. Examine the history of the Federal Reserve Bank of Dallas and learn about the Bank's service to the Eleventh District and to the American people.
---
Cinco de Mayo (May 5th, 2015 to May 25th, 2015)
Rarely seen items from the DHS collection will be on display in the Great Hall to commemorate the Mexican army's unlikely victory over French forces at the Battle of Puebla on May 5, 1862, under the leadership of General Ignacio Zaragoza Seguín.  Items on exhibition will incorporate several Mission San José y San Miguel de Aguayo artifacts dating from 1720-1840 including an iron crucifix and lamps, door lock with key, wooden crucifix,  Spanish made pistol, images of the church and rose window.
---
Texas Independence Day 
Dates: February 22nd-March 8th, 2015
Come to the Hall of State and see a special, limited run exhibit on Texas' Independence. See rare items from our collections including Sam Houston's report on the Battle of San Jacinto, the minutes of Texas' first Constitutional Convention, James Walker Fannin's pocket watch, and more.
This limited engagement exhibit will run from Saturday, February 22nd-Sunday, March 8th.
---
COMANCHE NATION:  The Story of Quanah and Cynthia Ann Parker
Dates: November 3rd, 2014 to January 15th, 2015
Comanche Nation: The Story of Quanah and Cynthia Ann Parker is a traveling exhibit of rarely seen photos of Quanah and Cynthia Ann Parker.  Cynthia Ann and Quanah Parker are two important names in U.S. frontier history. Much can be learned from the dramatic story of these two courageous individuals. In 1836, a Comanche raiding party took Cynthia Ann from her family.  Over the following years, she became wife to a Comanche chief and mother to children, including Quanah.  After Cynthia Ann was taken back by Texas Rangers, Quanah became one of the most important Comanche leaders both in war and peace.
---
TEXAS SPORTS LEGENDS
Dates: September 26th, 2014-October 19th, 2014
The State Fair of Texas and the Dallas Historical Society, in cooperation with the Texas Sports Hall of Fame, present a new exhibit honoring a selection of individuals who have contributed to athletic history in Texas, titled "Texas Sports Legends." The exhibit will be open daily during this year's State Fair of Texas, September 26 through October 19.
"Whether they grew up here or became a member of a Texas-based team later in life, there are many legends to be honored who have contributed to Texas athletics," said State Fair of Texas President, Mitchell Glieber. "We know that we cannot honor them all, but we thank the Texas Sports Hall of Fame for loaning us a selection of sports memorabilia for fairgoers to enjoy during this year's Fair, themed "Deep in the Heart of Texans"."
A selection of the inductees from the Texas Sports Hall of Fame who will be highlighted in this exhibit include: auto racing legends – A.J. Foyt and Johnny Rutherford; baseball legends – Roger Clemens and Nolan Ryan; basketball legends – Rolando Blackman and Clyde Drexler; boxing legend – George Foreman; football legends – Joe Green, Tom Landry, and Doak Walker; golf legends – Ben Crenshaw and Lee Trevino; hockey legend – Mike Modano; rodeo legend – Don Gay; soccer legends – Mia Hamm and Kyle Rote, Jr.; swimming legend – Eddie Reese; tennis legend – Zina Garrison; and track and field legends – Carl Lewis and Michael Johnson