When:
July 14, 2020 @ 12:00 pm – 1:00 pm
2020-07-14T12:00:00-05:00
2020-07-14T13:00:00-05:00
Where:
Hall of State, Fair Park
3939 Grand Ave. Dallas
TX 75210
Lecture by Loren Steffy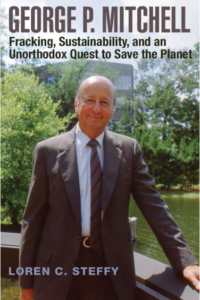 Upon George Mitchell's death in 2013, The Economist proclaimed, "Few businesspeople have done as much to change the world as George Mitchell," a billionaire Texas oilman who defied the stereotypical swagger so identified with that industry. In George P. Mitchell: Fracking, Sustainability, and an Unorthodox Quest to Save the Planet, award-winning author Loren C. Steffy offers the first definitive biography of Mitchell, placing his life and legacy in a global context, from the significance of his discoveries to the lingering controversies they inspired.
Due to the closure of the Hall of State, this event will be rescheduled.