Latest News
---
North Texas Giving Day
North Texas Giving Day is back September 20, 2018!
To mark the 10th Anniversary of North Texas Giving Day, donors have 10 days to schedule their North Texas Giving Day gifts starting September 10. Simply go to https://www.northtexasgivingday.org/dallas-historical-society between September 10 and September 19, and you will be able to schedule gifts to the Dallas Historical Society or NorthTexasGivingDay.org for any of the other 2,700+ participating nonprofits!
Join us at our Pour Yourself into History Happy Hour and North Texas Giving Day "Giving Party"
September 20, 2018
Twisted Root Burger Co.- SMU
5609 SMU Boulevard
Dallas, TX 75206
Carroll Shelby's grandson Aaron Shelby will be discussing his legacy and the history of the building where he operated one of the first sport car dealerships in Dallas. A collection of his items and his famous cars will be on display at Hall of State during the 2018 State Fair's exhibit "Celebrating Texas Innovation".
Come enjoy some history, socialize, and give back to help Dallas historical society continue to keep local history relevant!
(we will have computers set up for you to make your North Texas Giving Day donations online)
Click Here to register for Twisted Root Burger Co. happy hour.
Or GIVE on September 20, 2018 from 6 a.m-11:59 p.m. You can also download the North Texas Giving Day app in the App store for easy online donating!
---
Century Society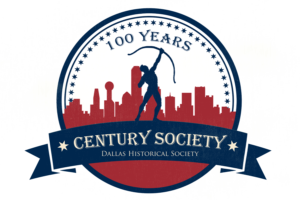 The Century Society of the Dallas Historical Society is comprised of engaged and forward thinking community members who take pride in the city of Dallas and are committed to the 100th anniversary of the Dallas Historical Society in 2022. Whether generational, longtime Dallas resident or new to the city, each member has one goal in mind: to continue to support the important history of the people, places, and events for the next generations. The objective of the Century Society is to take the organization into the next hundred years in a meaningful and modern way.
*The Founding Members will play an integral role in the formation of the Century Society in order to ensure the success of the 100th anniversary celebration.  Founding Members will be expected to pledge to a five year commitment. For more information please contact Molly Nolan at 214-421-4500 ext. 107
---
About the Dallas Historical Society:
Established in 1922, the Dallas Historical Society is the preeminent organization of its kind in Dallas, collecting, preserving, and exhibiting the heritage of Dallas and Texas to educate and inspire future generations. The stories of Dallas are shared each day through the three million items that comprise its archives and artifact collections. Housed at the Hall of State in Fair Park since 1938, the Society presents these collections through education programs, exhibitions, tours, access to research materials and workshops. Each year, the Dallas Historical Society is visited by more than 160,000 people and serves more than 20,000 students through guided tours and educational programming at the Hall of State, as well as outreach programs at school locations. More information can be found at http://www.dallashistory.org.